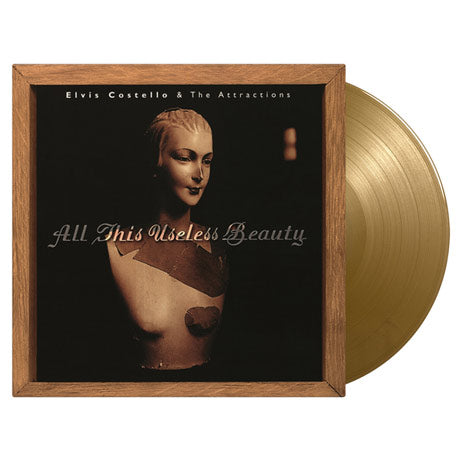 Elvis Costello / All This Useless Beauty limited edition gold vinyl
£30.00
*If you are ordering from the EU please be aware that that goods may be subject to import VAT when they arrive from the UK*
All This Useless Beauty limited edition gold vinyl

Gold vinyl • 2500 numbered copies •  Insert

All This Useless Beauty is the seventeenth studio album by English rock singer
and songwriter Elvis Costello, originally released in 1996. The album peaked at
No. 28 on the UK album chart, and at No. 53 on the Billboard 200. It is his final
album with his long-standing backing band The Attractions.

In its original conception, the album was to be a set of songs written for other
artists, entitled A Case For Song, with backing by a diverse array of musicians.
Instead, Costello chose to record the songs himself with The Attractions. For
instance, "Complicated Shadows" had been intended for Johnny Cash, and
"Why Can't A Man Stand Alone?" for Sam Moore, and the B-side opens with his
collaboration with Paul McCartney, "Shallow Grave".

Four songs previously released by others also made it to the final track listing:
"The Other End Of The Telescope" was co-written with Aimee Mann; "You
Bowed Down" was recorded by Roger McGuinn; "All This Useless Beauty" and
"I Want To Vanish" was recorded by June Tabor.

All This Useless Beauty is available as a limited edition of 2500 individually
numbered copies on gold coloured vinyl. It is released on 14 October 2022 via Music On Vinyl.
Side A
1. The Other End Of The Telescope
2. Little Atoms
3. All This Useless Beauty
4. Complicated Shadows
5. Why Can't A Man Stand Alone?
6. Distorted Angel
Side B

1. Shallow Grave
2. Poor Fractured Atlas
3. Starting To Come To Me
4. You Bowed Down
5. It's Time
6. I Want To Vanish