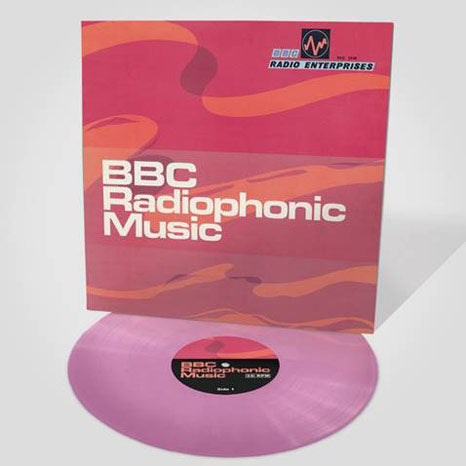 BBC Radiophonic Music / PINK vinyl LP
£20.00
BBC Radiophonic Music pink vinyl
Pink Vinyl • Limited edition • 350 for the UK
A reissue of the 1968 BBC Radiophonic Workshop's hugely influential 10th anniversary album, featuring remastered early electronic works of John Baker, David Cain and Delia Derbyshire.
Widely regarded as a major influence on the development of electronic music worldwide, BBC Radiophonic Music is a compilation of short works, often composed as intros to various radio or television programs. Conceived in a time when analogue sampling meant hours of slicing tape with razor blades, BBC Radiophonic Music is brimming with zippy themes, unsettling atmospherics, riffs, loops, clicks and beeps. Insanely catchy yet deeply sinister, this is 'collage music', produced, according to Desmond Briscoe of BBC Radiophonic Workshop, "with the intention of entertaining rather than informing".
This is an essential album for analogue and TV theme obsessives, and anyone with an interest in contemporary electronica; mysterious, eccentric and celestial, it is a celebration of one of the UK's most treasured and unique institutions.
This is released by Silva Screen on 15 March 2019.
SIDE 1
1. Radio Sheffield - David Cain
2. Radio Nottingham - John Baker
3. Boys and Girls - John Baker
4. Mattachin - Delia Derbyshire
5. Pot au Feu - Delia Derbyshire
6. Time and Tune - John Baker
7. Tomorrow's World - John Baker
8. Reading Your Letters - John Baker
9. Blue Veils and Golden Sands - Delia Derbyshire
10. The Missing Jewel - John Baker
11. Artbeat - David Cain
12. Fresh Start - John Baker
13. Christmas Commercial - John Baker
14. Sea Sports - John Baker
15. The Delian Mode - Delia Derbyshire

SIDE 2
1. The Frogs Wooing - John Baker
2. Milky Way - John Baker
3. Structures - John Baker
4. New Worlds - John Baker
5. Ziwzih Ziwzih OO-OO-OO - Delia Derbyshire
6. Festival Time - John Baker
7. The Chase - John Baker
8. Towards Tomorrow - Delia Derbyshire
9. Quiz Time - John Baker
10. P.I.G.S. - John Baker
11. Autumn and Winter - David Cain
12. Door to Door - Delia Derbyshire
13. Factors - John Baker
14. War of the Worlds - David Cain
15. Crossbeat - David Cain
16. Air - Delia Derbyshire